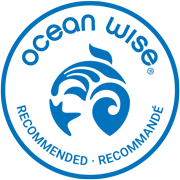 Ocean Wise™ seafood program is a conservation program created to educate and empower consumers about the issues surrounding sustainable seafood. Ocean Wise works directly with restaurants, food services, and suppliers ensuring that they have the most current scientific information regarding seafood to help them make ocean-friendly buying decisions.
The options are highlighted on menus and display cases with the Ocean Wise symbol, making it easier for consumers to make environmentally friendly seafood choices. The Ocean Wise logo next to a menu or seafood item is an assurance that the item is a good choice for keeping ocean life healthy and abundant for generations to come.
Buying Ocean Wise has never been easier. Look for the Ocean Wise Recommended symbol. www.oceanwise.ca
MSC™ is the world's leading ecolabel and certification program for wild-caught sustainable seafood. When buyers and consumers see the MSC blue fish label they can be sure that the product is traceable back to a fishery that has been certified to the MSC's rigorous environmental standard as a sustainable and well-managed fishery.
The standard ensures the fish stocks are healthy, the impact of fishing on the marine ecosystem is minimal and the fishery is well-managed. Fisheries around the world voluntarily come forward to be assessed against the MSC standard and the open, transparent evaluation process is conducted by an independent, third-party certifier with full stakeholder engagement.
Once a fishery is certified, all companies in the supply chain must have MSC Chain of Custody certification, which ensures MSC labeled seafood can be traced back to a certified source. Products marked with the MSC blue fish label support fisheries that are helping to protect the world's oceans. Ask our Sales Representative to find out which of our seafood products are MSC Certified. www.msc.org